Lady Raven Stable wishes to care for a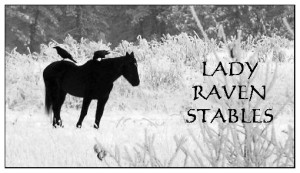 horse in a way that the owner can have the best experience with a happy, well cared for horse. Found on 20+ acres off State Highway 395, North Spokane above the Wandermere Bridge, off the Hatch Road Interchange.
Lady Raven Stables was born out of the idea of a young girl and a love for horses. Ray just went along for the ride (quite literally). With many starts and stops in horse ownership, with western games, endurance riding, a dream of having a horse stable with an indoor arena arose. Through wise investing, being land poor for many years, and a lot of luck, LeeAnn's dream came to fruition.
The Lady Raven logo came from the original horse that lived here. One cold winter morning, Lady and a couple of her raven friends were just hanging out. Lady was 34 years old at the time. We bought our home from Lady's owner, Lona. Lona assumed that Lady would end up at the auction or the rendering company due to her age. Ray and LeeAnn took her on until Lady's passing a year later in the warm sunshine of summer.
http://www.ladyravenstables.com/

Lady Raven Stables is a small family owned stable. We strive to provide a comfortable, quiet, and inviting atmosphere for the horse owner to enjoy their horse and associated activities.  Your horse(s) will become thoroughly involved with our Caretaker Lisa, i,e, Housekeeping, Catering. Lisa cares for our "residents" at Lady Raven as if they were her own horses. Feel free to discuss the particulars of your horses' care with her.
Lady Raven is fortunate to have Molly Sanders, a 3 Star Parelli Trainer working out of the barn. More information on the services she will offer, see her website at www.nwsavvy.com.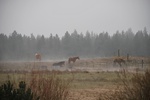 Lady Raven Stable offers stall boarding with 2 options for attached runs. We have 12×12 matted stalls with 48-foot runs and 7 stalls with smaller runs are also available. These stalls are attached to a 60'X 108' Indoor arena. Our outdoor arena is mud-free in the spring due to the sand found in the footing. Two round pens are available for use in training. Close to town, yet we have trails.
Lady Raven Stables also includes daily cleanings of stalls with wood shavings replaced. AM and PM feedings are included in the board costs.
All riding disciplines are welcome at Lady Raven Stables. We have currently have show horses, endurance racers, trail riders, and an expectant mare. If you are looking for a barn where horses are put 1st, give us a call.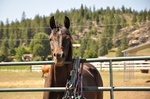 LeeAnn Hancock, Owner
Phone: (509) 953-4511
E-mail: lhancock@windwireless.net